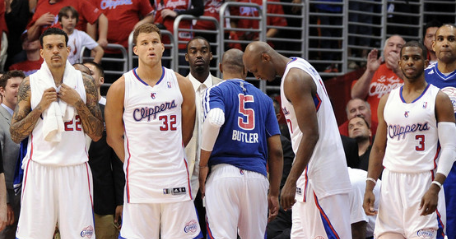 The Los Angeles Clippers just had one too many egos.
Matt Barnes, who played for the Clippers during the "Lob City" era featuring Blake Griffin and Chris Paul, explained why those teams could never get over the hump. Barnes, who won his first and only NBA title with the Golden State Warriors during his last season in 2016-17, compared those Clippers to the Warriors:
"We really had one of the most talented teams that never won a championship in LA and I think it was our own fault," Barnes said on the Lunchtime with Roggin and Rodney show on AM 570 LA Sports. "We were in our own way. Just too many egos, young acting. We thought we were going to be the Warriors right up until they won the championship. We knocked them out of the playoffs the year before they came back and won, so we had a very talented team. We just couldn't get on the same page. It was crazy. We were all cool off the court and I was like, 'how are we cool off the court and can't get it together on the court?'
"Egos. Egos. And now looking back on it from my perspective, because I was fortunate enough to go to the Warriors with a whole handful of superstars and there was no egos. Everyone left their ego at the door, the only thing that mattered in Golden State was to win and winning the championship. If we had that mentality with the Clippers, we would have won a championship."
Paul and Griffin teamed up together from 2011-12 until 2016-17 and won two division titles while advancing to the playoffs during every one of those seasons. However, while the Clippers were annual playoff contenders, they were never able to get over the hump. In fact, they were never even able to advance past the semifinals, advancing on three different occasions and losing each time.
Both Paul and Griffin are now on completely different teams in two different conferences. Paul is with the Houston Rockets and was within one game and a hamstring injury away from advancing to his first NBA Finals while Griffin was traded to the Detroit Pistons midway through the 2017-18 season.
The Clippers now feature a completely different team with head coach Doc Rivers as the only holdover from those Clippers playoff squads. 
The fact that Barnes compared those Clippers teams to the Warriors ones shows how much talent those Los Angeles squads really had. However, egos and a lack of cohesion versus the Western Conference's very best led to their downfall each and every postseason.
While history may not remember the 2010's Clippers due to their lack of success in the playoffs, anyone who watched basketball during the first half of this decade knows what type of potential they had.